It's hard to believe that we're approaching the halfway mark for 2020. We don't have to tell you that's it been quite a year already.
We all know it. We've all been living it.
So as the Commonwealth of Massachusetts reopens, we wanted to update you on what's been happening on our end, including some highlights. (Yes, there have been highlights!)
Greater Boston Urology is (and has been) open.
As an essential business, we've been open during the pandemic, and we will remain open.
Now that the Commonwealth has given the green light for preventive medicine and elective procedures, our doctors are eager to work with patients who had to postpone procedures due to the pandemic. This has been especially concerning to our staff since the key to long-term success in medicine is early diagnosis and intervention.
Bottom line: if you postponed a visit or a procedure—or if you've been "putting off" addressing an unexplained symptom—see your doctor as soon as possible.
Our nine Care Centers throughout Massachusetts are open and operating at full capacity. In addition, we'll continue to offer telehealth visits as well, which brings us to our next point.
Telemedicine keeps GBU doctors connected with patients.
As Dr. Curran mentioned during a virtual Town Hall with Congressman Joseph Kennedy, GBU had been considering implementing telemedicine for some time. The hang up had always been the insurance piece. The pandemic forced a positive change (from our perspective) in that insurance companies were encouraged to cover telehealth visits in part or in full—a trend that we hope and expect will continue post COVID.
Telemedicine offers several key benefits to patients, providers, and the healthcare system as a whole:
Telemedicine increases access to care. This is especially important for rural areas of the country, but even in a state like Massachusetts, telemedicine increases access to care for those who can't get to a doctor's office due to lack of transportation, illness, or even general anxiety when it comes to "going to the doctor."
Telemedicine improves quality of care. Studies suggest that patients with access to telemedicine had fewer hospitalizations or repeat admissions. Those in the hospital spent fewer days. Patients with telehealth tended to be more engaged with their own healthcare as well.
Telemedicine eliminates the risk of exposure to other illnesses. This is the main reason why telemedicine became so popular during the pandemic. But even when we return to the new normal, telemedicine is an excellent option during flu/cold season (and perhaps future coronavirus seasons). If anyone in your household is sick, telemedicine allows you to be seen at your regularly scheduled appointment without fear or guilt of potentially spreading germs.
Telemedicine reduces healthcare costs. As noted above, fewer hospitalizations and less time spent in the hospital result in reduced costs. Secondary savings for patients shouldn't be overlooked, such as needing to take time off from work, child care, and commuting costs to and from the doctor's office.
Telemedicine will never replace in-person office visits, and, of course, telehealth might not offer the same benefits across all fields of medicine. But when it comes to urologic care, telemedicine can be an excellent complement to traditional in-office visits.
Learn more about how telemedicine works at Greater Boston Urology.
We have the best staff!
We already knew we had a fabulous staff, but the last five months have reinforced this. We have nine urologic Care Centers throughout Massachusetts, and each location is home to dozens of staff members.
Everyone met the challenge head on, with a smile, coming in day in and day out, despite the chaos generated by COVID-19 and even as they had to juggle challenges in their own households, like kids suddenly home full time.
Here are just some of the pics that warmed our hearts...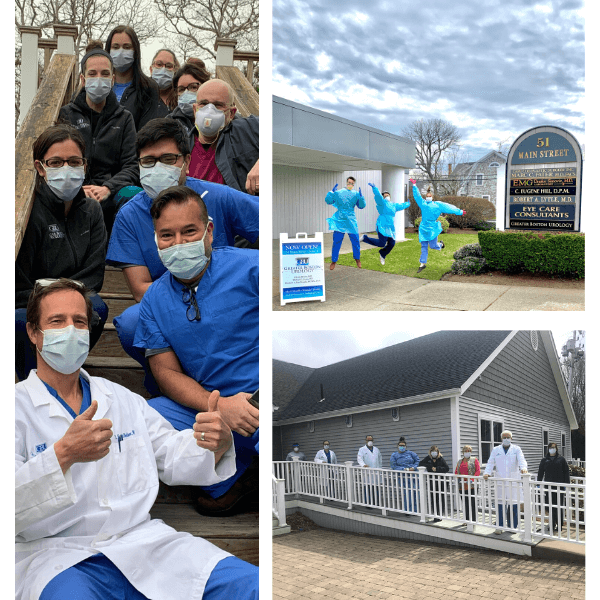 We've been wowed by random acts of kindness.
Patients and their loved ones were always quick to thank our medical staff for the long days and hard work during these uncertain times. And like everyone around the world, we at GBU cheered on the healthcare workers who served on the frontlines of the pandemic.
Check out these homemade masks one patient made for us...
Along with a sweet thank you from a patient's grandchild...
And how about these incredible "ear reliefs" for masks! They were made on a 3D printer and donated to our Care Centers. Check out the folks behind this innovative product—they have a great Instagram page that goes into all the details.
Resiliency is the name of the game.
Human beings are a resilient lot. We adjust. We "pivot." We take what life throws at us, right?
To wit: May was National Bladder Cancer Awareness Month. The Bladder Cancer Advocacy Network's signature event—an annual Walk—is held every May in cities around the country (GBU is the local presenting sponsor in Boston). Due to the pandemic, the in-person Walk had to be called off. But that didn't stop a virtual walk from taking place on May 2.
See two of our happy virtual walkers doing their part from their socially distant back porch...
The annual Walk is an important event for BCAN because the monies raised go to support research, education, and patients affected by bladder cancer (a disease that doesn't get as much press as other cancers). If you have some extra dollars to spare (a difficult ask during these difficult times, we know), please consider making a donation.
And check out the BCAN virtual walk video – GBU gets a shout out about 1:12 in!

GBU continues to care for you!
Dr. Michael J. Curran (our CEO) and Dr. Michael Geffin (our Chief Medical Officer) say it best in this video that we posted early in the pandemic. And everything still holds true today.
If you have any questions or concerns, please don't hesitate to reach out to us—either our front office or your GBU physician.
And if you're looking to be seen by a urologist, now is a great time. Avoid hospitals and urgent care buildings and see a GBU physician in one of our convenient urologic Care Centers or from the comfort of your couch via telemedicine.
On that note, stay well, have a good June . . . and don't forget to wash your hands!